OKIRAKU provides assistance for sitting up.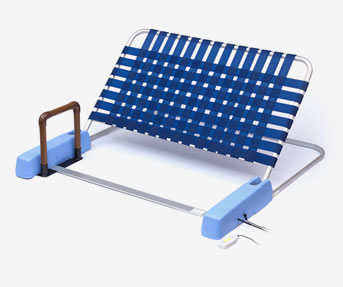 The user can easily raise or lower the seat back simply by touching a button.
Features
Supports an independent lifestyle for the elderly and prevents them from becoming bedridden. Futons can be used without modification, enabling users to maintain their current lifestyle. Portable and easily stored, making efficient use of room space. Only essential functions are included to realize low cost. In addition to elderly care, OKIRAKU is ideal for people who have trouble getting out of bed in the morning due to back pain, etc.
Suggested Retail Price: 100,000 yen (does not include futon and futon cover)
External Dimensions: 119.5cm (width)×120cm (length)×80cm (height) (when seat back is raised to most upright)
Materials: Case (PP (polypropylene)) Frame (aluminum alloy)
* OKIRAKU is included in the Promotion of R&D on Practical Welfare Equipment Project of the New Energy and Industrial Technology Development Organization (NEDO).
Convenient in the following cases!
For people who want to put their futon on a tatami mat when sleeping, but need help to get out of bed.
For people who can stand after reaching a sitting position and therefore do not require an elaborate motorized bed.
For people who lack the space for a motorized bed in their room.
For people who have trouble standing up by themselves but would like to move throughout the room on their hands and knees.
For people who only need occasional assistance and want a device which can be stored easily.
Model
TP-A110
Usage
Indoor use
Power Source
AC100V, 50/60Hz
Power Consumption
60/64W (50/60Hz)
Incline Angle
0 to approx. 70 degrees
Incline Time
Approx. 30 seconds for incline/decline
Usage Restrictions
Max. weight of 80kg (when lying down in normal position)
Weight
Approx. 14kg
Power Cord Length
Usable length of 1.8m
Usable Futon Dimensions

Single (100cm (width)×200cm (length))
Single long (100cm (width)×210cm (length))