Support for Motor Sports
We are supporting several motor sports.
TOYOTA Racing
Le Beausset Motorsports
Team Land Cruiser(TLC)
HINO TEAM SUGAWARA
EV Eco Club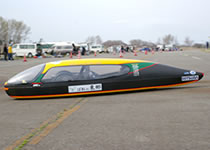 Togo Seisakusyo competes in the World Econo Move through an EV eco car which was designed and produced by members of our company, focusing on how to improve energy efficiency. We are enjoying the challenging of increasing the efficiency of energy consumption.