Ever since the company's incorporation, we at Togo Seisakusyo have sought constantly to improve our technical capacity. Even after establishing ourselves as a top manufacturer of small springs for automotive applications, our desire to seek out and overcome technical challenges remains unchanged and our quest for new technological developments continue apace. We asked the managers of our three technical departments to share their thoughts on Togo Seisakusyo's technical strengths.
- Today's leading products
Harada: At present, our leading products are hose clamps, which are used in cars and gas-fired equipment. They are made by curling strips of steel into rings, which are clamped around rubber hoses where they connect to pipes in order to create a tight seal and prevent any leakage. Our share of the Japanese market is around 70%, and our share of the international market is around 30%.
Togo Seisakusyo developed the world's first spring band hose clamp in 1972. We patented the design and succeeded in making the conversion to mass-production. Auto manufacturers, our main clients, love these clamps; they're strong, durable, highly functional, and reliable.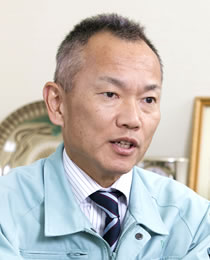 Kondo: The Togo Seisakusyo company motto is "Always dedicate to society with products far better than those of yesterday." One factor in our ability to earn and retain trust is our determination to do more than simply make good products and be done with it, and to constantly refine and improve materials so as to achieve ever-lighter, ever-better products.
We are constantly coming up with ways to make work easier for those on the automobile assembly line, such as attaching holders to hose clamps and designing those holders so they can be attached with a single touch. We try to foresee clients' pain points before they recognize them.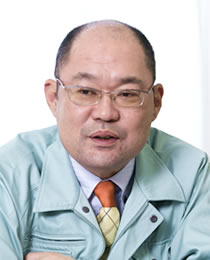 Ikeda: One of Togo Seisakusyo's founding purposes is to "perpetually contribute to society through a lasting and mass-quantity supply of quality products both in Japan and overseas." So, for example, even if the technical departments come up with something that is functionally good, it's no use to us unless it can be mass-produced. Our current strength lies in our wealth of mass-production technologies, which we have amassed over long years in cooperation with the technical departments. In fact, these can be traced back to our early and ongoing determination to build our own forming machines.
Harada: But we're not just about hose clamps; other key products include compression springs and other assembly parts (e.g. valve springs, damper springs, and return springs) used in automobile engines and transmissions. We also make tolerance rings for use in clutches to control torque. Development of these began a few years ago, and we have successfully mass-produced them. Hopefully, these will join the ranks of our key products. Elsewhere, we offer an extensive variety of quick connectors made of resin as an alternative to steel hose clamps in order to meet the full range of customers' needs.
- The origins of Togo Seisakusyo's innovative manufacturing practices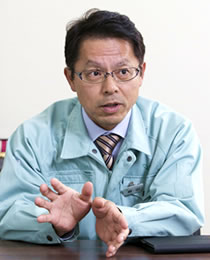 Harada: Togo Seisakusyo originally made hoes and other farm implements. The company wanted to make stronger, more durable hoes, so we learned new techniques such as heat treatment and plastic forming of metal. These were the seeds that grew into our current strengths, and the mindset of that age still forms a major part of our present-day spring production practices. We are proud to carry on a long tradition of innovating to make things better.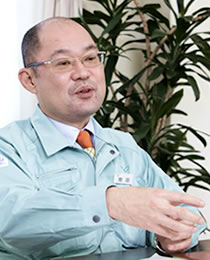 Ikeda: Togo Seisakusyo pioneered the use of austempering heat treatment in Japan. This new method fulfilled one of our greatest enthusiasms, which was to develop and implement our own technologies even if they had not been proven in a mass-production set-up, so that we could improve the quality of leaf spring heat treatment. Over the company's long history, these processing technologies, heat treatment methods, and immeasurable volumes of expertise have gone on to become invaluable assets, proven through repeated trial and error.
- Putting technologies to practical use
Harada: Materials is another area in which we like to innovate. Applying our strengths in plastic forming of metal and heat treatment to other materials, we have steadily expanded the range of materials we can work with, initially growing from steel wire to incorporate steel sheet then resins and copper. When the times have favored a particular material, we have made sure we are able to work with it.
Ikeda: In recent years, the elemental technologies used with plate and resin materials are being combined in the development of electronic components. For instance, the forming and heat treatment technologies used in the production of wire springs have proven useful in the manufacture of leaf springs—there is a lot of synergy between technologies.
- Exploring new fields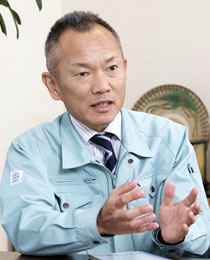 Kondo: Ever since the company's inception, we at Togo Seisakusyo have sought out and overcome challenges, and that mentality lives on today—we love to solve problems. In fact, overcoming challenges invariably leads to new products and corporate growth.
At the Development Department, for instance, we have spent the last two decades striving to open up new fields in addition to our core segments like automotive springs. One area we have invested considerable effort in is social welfare and elderly care. One of our earliest developments was Okiraku, a device to assist people with mobility challenges raise or lower their body position with ease at the touch of a button, which we came up with around 20 years ago. A more recent example came in 2015, with the launch of "SMIBY", a "baby" robot designed to comfort and relax. SMIBY's body uses the resin molding technologies we developed over long years of producing automobile springs.
Also, we are in the middle of developing prosthetic limbs and other assistive devices.
Harada: By the 2030s and 2050s, more and more cars will have moved away from petrol engines to motors powered by electricity and hydrogen. Naturally, our products will have to adapt to suit tomorrow's radical technologies. But we cannot wait until then; success in those competitive times depends on us thinking now about our future line-up of products. That's why we in the technical departments—in fact, all of us at Togo Seisakusyo—are working hard to create new values that can propel us to a higher stage.
- The philosophy of innovative manufacturing
Harada: The Engineering Division's slogan is "Think and Act." It is designed to inspire us to maintain a bright, positive mentality and to act decisively and swiftly. When you come up with a good idea, it's important to put it into action quickly while it's still fresh. And, to foster those good ideas, we exhort our staff to enjoy their work. Ultimately, our aim is to constantly improve our technical strengths and ability to meet our clients' needs, and to offer them radical new solutions so as to establish ourselves in their minds as a reliable partner to turn to in times of crisis.
Ikeda: The Production Engineering Division's slogans are "Halve" and "The Ultimate Spring," which relate to our unwavering quest to improve the speed, precision, and cost of our products.
Kondo: At the Development Department we are concerned with the acquisition of new clients. The company's pivot to production of auto parts meant fewer opportunities to deliver products directly to end consumers, and management dearly wanted to develop a line of products that once again gave us direct feedback from consumers. To that end, we have to keep a watchful eye on major trends and predict what kinds of products society will find useful. We look forward to developing products that fulfill people's needs and wants.